Crew118Day02CommanderCheck-In Report

Date and time: 22 April 2012, 1300 hrs
Written by: Haritina Mogosanu, Crew 118, Commander
Crew Physical Status:
Medical incident - Annalea Beattie felt on the steps on the EVA prep room and possibly sprained her ankle. I am taking her to Bicknell for an X-ray. (I also just came back from Hanksville where I drove as I was unable to contact DG to find out what options we have for getting an x-ray). I will be leaving in 30 minutes, estimated time of return unknown. Mike Bodnar will have the ship until then so please contact him for the rest of the reports.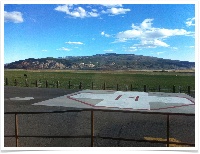 Everyone else good. Very hot outside so we keep hydrated.
Report Transmission Schedule

(you can access below all the reports of the day):

Mission Support

Media

KiwiMars Gallery
Time Departed/Returned from EVA:
no EVA
Brief Narrative of Field Mission Results:
no EVA
EVA Data/Interpretations:
Engineering/Hab Maintenance:
EVA scheduled tonight will be delayed, estimated time to receive unknown. Don (crew engineer is coming with us to Bicknell)
Packages delivered to the Hab:  
(For each one received, note the following:)
               Sender: 
               Ordered by: 
               How package arrived at the Hab: 
               Contents of package: 
               Condition of contents: 
               Disposition of contents and packing slip/receipt: 
Report Transmission Schedule:
Engineering report - unknown
Journalist report - ETD 19:45
HSO Report - ETD 19:45
Plans for Tomorrow:
Start sim/conditional on Annalea's health state
Inventory:
To be sent tonight (HSO) 
Support Requested:
permission to dig a hole (3 ft square, 9 inches deep) in the engineering area where the soil is disturbed already fro the low tech water harvesting experiment.
Miscellaneous: -
ENDS.