MEDIA RELEASE
29 JANUARY 2013
Kiwi students get rare chance to follow "Mars Mission"
Kiwi school kids have a rare opportunity to follow a mock Mars Mission at the Mars Desert Research Station in the Utah desert for the next two weeks.
The TasMars 2013 Team - following on from last year's KiwiMars mission - has just begun a two-week analogue mission to study planetary science, engineering, biosecurity and human factors at the mock Mars base.
Two members of the crew (David Willson and Jen Blank) are from NASA AMES Research Center in the heart of Silicon Valley in California. Willson is an Australian engineer working on future Mars sample return instrument concepts. Blank is a geochemist and member of the Mars Science Laboratory science team working with the Curiosity rover that landed on Mars last August. The other two members are Melanie Newfield, a biosecurity manager at New Zealand's Ministry for Primary Industries, and Emma Braegen, an aeronautical engineer from Australia working for BAE Systems.
Courtesy of the KiwiSpace Foundation, all schools around New Zealand have a chance to interact live with the team at the Mars Desert Research Station (MDRS) via the mission's chat facility page. 
"This is an exciting opportunity for students around the country to talk to real scientists doing real exploratory work at the Mars Desert Research Station in Utah," said Kiwispace Education Coordinator Haritina Mogosanu. A crew member on two previous MDRS missions and Flight Director for TasMars, Mogosanu said "students don't need a passion for Mars, just a passion for knowledge".
"The varied work done by the crews at MDRS covers human interaction, geology and geography, palaeontology, nutrition, engineering, biosecurity and more," she said. "There are so many areas of the New Zealand science curriculum covered."
The TasMars crew will remain at the base until 10 February. 
ENDS.
For more information:
About the TasMars Mission
KiwiSpace is running a two week mission at MDRS from 27 January to 10 February NZST, with a crew of four scientists from NASA, Biosecurity NZ and Mars Society Australia.
ABOUT KIWISPACE FOUNDATION
KiwiSpace Foundation is a non-profit organisation seeking to inspire the next generation of space scientists. The Foundation aims to showcase the benefits and opportunities that space applications provide NZ; highlight the many opportunities for New Zealanders to work in the global space community; and enhance national space capabilities and education programmes.
To learn more about KiwiSpace, visit http://www.kiwispace.org.nz. 
MISSION DIRECTOR - TASMARS 2013
Haritina Mogosanu
haritina.mogosanu@kiwispace.org.nz
+64 21 269 2908
KIWISPACE CONTACT
Mark Mackay
mark.mackay@kiwispace.org.nz
+64 21 622 379
PO Box 301780, Albany, Auckland 0752, New Zealand.
Attached Images

KiwiSpace Brand Material
| | |
| --- | --- |
| | KiwiSpace Logo (vertical orientation) |
| | KiwiSpace Logo (horizontal orientation) |
Featured Images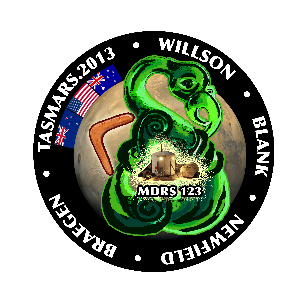 TasMars Logo is featuring a Maori Manaia, symbol of protection - as the expedition has as scientific theme Planetary Protection,as well as the Australian boomerang.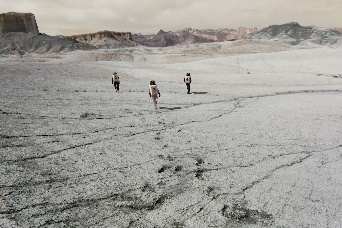 Members of KiwiMars 2012 in an Extra Vehicular Activity (EVA) in the desert of Utah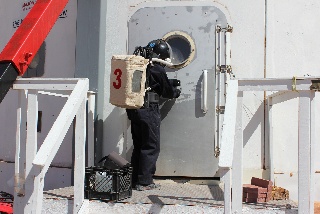 Closing the pressurising hatch at MDRS during KiwiMars 2012