MEDIA RELEASE
27 NOVEMBER 2012
Eggs did fly, at the NZ Rocketry Challenge
Ten teams of year 7 & 8 students battled it out for the title of best rocket scientist, in the inaugural NZ Rocketry Challenge on Sunday, at Ambury Regional Park in Auckland.

Cheered on by a 150-strong crowd, these junior rocket engineers launched a raw hen's egg high into the air. To win, they needed to fly to a specific altitude, and their 'eggstronaut' had to come back safely and undamaged. Each rocket carried a digital altimeter to provide a precise reading of the height achieved.
A team from Diocesan School for Girls, Epsom took out the competition. Their best flight was only 3 metres off the target altitude of 150 metres. Second and third place teams came from Tauranga Intermediate School and Baradene College respectively.
After their first flight, teams were busy making tweaks to their rockets, adding additional weight and trying to find the optimum egg-packing technique for success.
"The winning team showed great consistency, with their rocket being only 6 and 3 metres off the target altitude for their two flights," said Mark Mackay, executive director of KiwiSpace. "This is precisely what we were hoping for with the competition - application of good scientific methodology and aerospace engineering skills."
There were inevitably some failures that added to the drama and excitement of the day. Parachutes failed to open in some cases, resulting in ballistic re-entries – but impressively, some of the eggs survived these landings due to great 'passenger safety systems'. 
ABOUT THE COMPETITION
The NZ Rocketry Challenge is a new programme co-hosted by KiwiSpace Foundation and the NZ Rocketry Association. It is based on a popular American contest, the Team America Rocketry Challenge, which in its 2012 season involved over 3,000 students.
"There was huge interest from schools all around the country, who couldn't make it up to the launch day in Auckland," says Mr Mackay, "We've already had demand for regional competitions or semi-finals, and many of the students who participated his year are keen to compete again."
An additional 10 teams from schools around New Zealand participated in the programme, undertaking qualification flights in their school fields. Mr Mackay is looking forward to the growth of the NZ competition, and the organisers are considering a senior challenge, to expand school involvement and up the difficulty.
Any students or teachers interested in participating next year are encouraged to register their interest at the competition website – www.rocketcontest.org.nz.
 
FINAL PLACINGS
Rank
School / Team
FLIGHT 1
FLIGHT 2

Best
Altitude
Difference

 
 
Altitude
Egg Intact?
Altitude
Egg Intact?
1
Diocesan School for Girls
156 m
Yes
147 m

Yes

3 m
2
Tauranga Intermediate School
104 m
Yes
132 m

Yes

18 m
3
Baradene College
129 m
Yes
109 m

No

21 m
4
Auckland Normal Intermediate 2
-
No
120 m

Yes

30 m
5
Auckland Normal Intermediate 1
118 m
Yes
134 m

No

32 m
6
Northcross Intermediate School
196 m
Yes
195 m

No

46 m
7
St Peters College
68 m
Yes
36 m

No

82 m
8
Albany Junior High School 3
40 m
Yes
50 m

No

110 m
9
Albany Junior High School 1
167 m
No
154 m

No

- 
10
Albany Junior High School 2
199 m
No
166 m

No

-
Note: Even minor damage to the egg results in a flight being disqualified.
The following schools have also entered the Challenge, and will be providing results from their own in-school qualification flights, or are adopting an internal training programme this year.
| School/Team | Area |
| --- | --- |
| Huanui College | Whangarei |
| Tikipunga High School | Whangarei |
| Palmerston North Intermediate Normal School | Palmerston North |
| Springston School | Christchurch |
| Opihi College | Canterbury |
| Whangaparoa College | Auckland |
| Napier Intermediate School | Napier |
| North Street School | Fielding |
ABOUT KIWISPACE FOUNDATION
KiwiSpace Foundation is a non-profit organisation seeking to inspire the next generation of space scientists. The Foundation aims to showcase the benefits and opportunities that space applications provide NZ; highlight the many opportunities for New Zealanders to work in the global space community; and enhance national space capabilities and education programmes.
To learn more about KiwiSpace, visit http://www.kiwispace.org.nz.
 
ABOUT NZ ROCKETRY ASSOCIATION
The New Zealand Rocketry Association is dedicated to the advancement and operation of consumer rocketry. Activities range from the promotion of rocketry education including the establishment of safety codes to maintain an excellent safety record. The non profit organisation draws its members from a wide range of backgrounds including students flying black powder model rockets, hobby rocketeers flying ammonium perchlorate high power rockets, through to amateur rocket scientists pushing the envelope of civilian rocketry. The NZRA affiliate, the Auckland Rocketry Club launches both low and high power rockets on a regular basis at the club's site in Taupiri culminating in an annual "Rocket Day" event in February where the public has the opportunity to see a wide range of rockets launching skyward, and to participate by building and flying a rocket on site.
For more details, visit: http://www.nzrocketry.org.nz/
CONTACTS

Mark Mackay
NZ Rocketry Challenge – Programme Coordinator
mark.mackay@kiwispace.org.nz
Mobile: +64 21 622 379

Gerry Munden
NZ Rocketry Challenge – Education Coordinator
gerry.munden@rocketcontest.org.nz
Tel: +64 9 624 3091 Mobile: +64 27 493 2766
Attached Images
KiwiSpace Brand Material
| | |
| --- | --- |
| | KiwiSpace Logo (vertical orientation) |
| | KiwiSpace Logo (horizontal orientation) |
Featured Images
Winning team members Yana David (middle) & Mila Power, with supervising teacher Aaron Menzies - who took out this year's NZ Rocketry Challenge with a flight only 3 metres away the target altitude.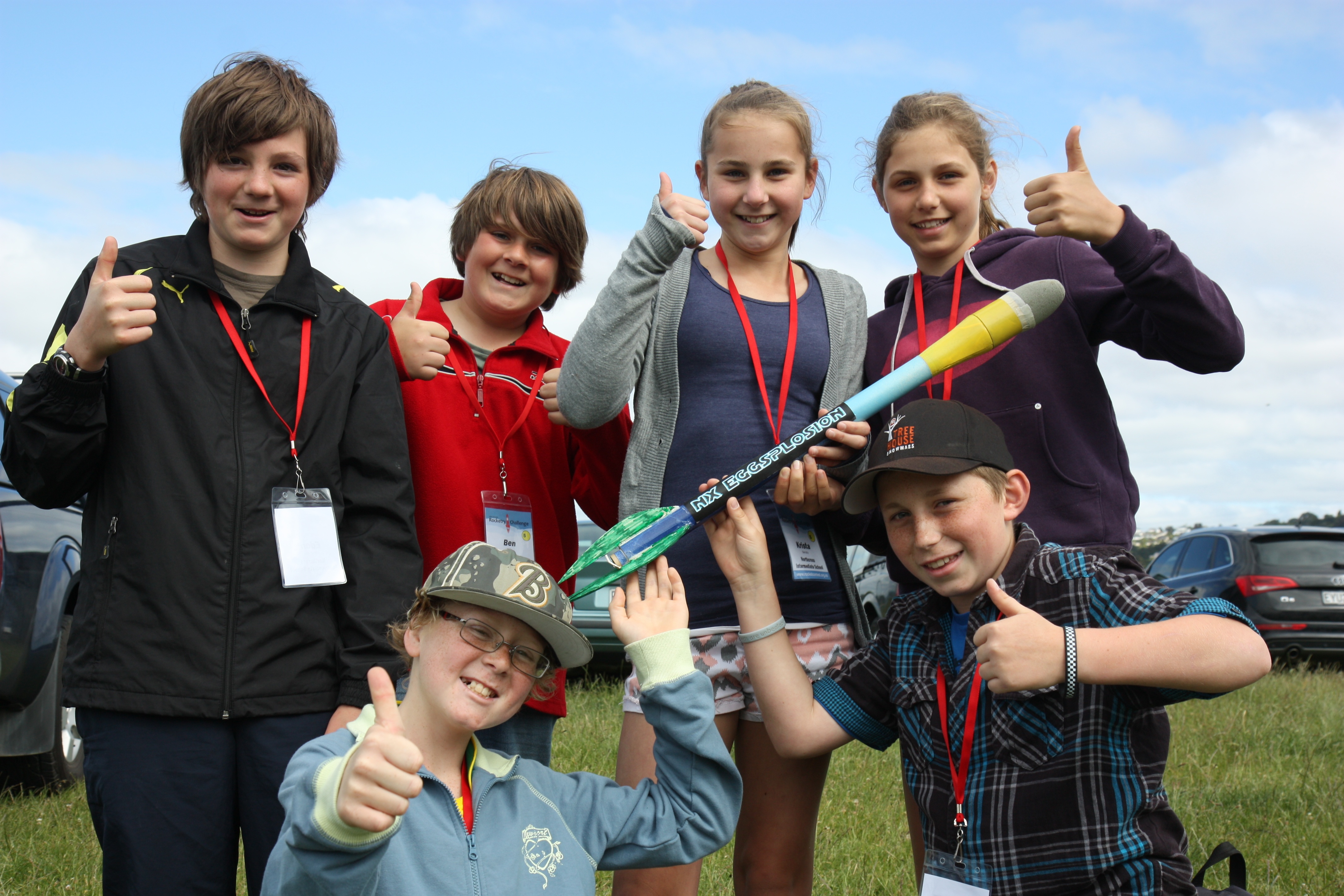 Students from Northcross Intermediate eagerly await the launch of their rocket, "NX Eggsplosion"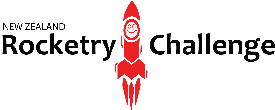 Official Logo
(Available as PDF/Vector)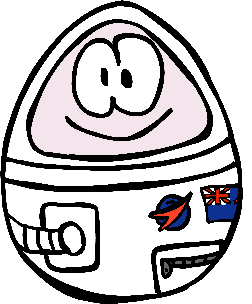 Eggnaut
(Available as PDF/Vector)