Skip to end of metadata
Go to start of metadata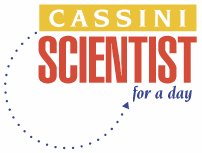 This competition is a great way to get your students' minds thinking analytically about the universe and space exploration. While we suggest you use this contest as a class assignment, it's just as easy to run as an extra-credit
or after-school project.
All participants receive a certificate from NASA, in addition to the opportunity to win great local prizes and have a chance to win the international prize.
We encourage your students to use resources such as the Cassini website, other websites on the internet and
the library to research information for the essay.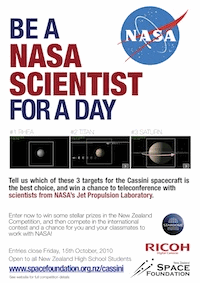 Key Resources & Suggestions
Submitting your student entries
Please email entries to cassini-competition@spacefoundation.org.nz
You will receive a confirmation message to let you know that we have received it.
The New Zealand due date is Friday 15th October 2010.
National winners will be announced on Friday 29th October 2010.
Winning Entries
If your student is selected as an National winner, we will contact you to provide a photograph of the student(s) on our website, and the NASA JPL website (if they win the international competition). Parents/guardians must submit written authorization to let us post the photos online.