Skip to end of metadata
Go to start of metadata
I posted some updates initially on the @KiwiSpaceEvents

Twitter account, but then things got quite busy -- so here is my belated report on the APRSAF-18

conference.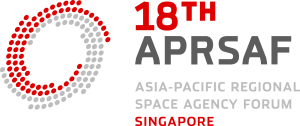 APRSAF's annual meeting is a gathering of space agencies in the Asia-Pacific region - typically attended by agency heads and other senior people. The conference ran from 5-9 December 2011, and is an opportunity to discuss and further collaborative projects. KiwiSpace is kind of the 'odd one out' in this group, but the meeting is a great way to learn more about the Asia-Pacific community. And in the absence of a formal space governance body here, we feel having New Zealand represented here is important - and intend to maintain our presence until a more suitable organisation emerges to take the lead.
Space Education & Awareness Working Group
The conference consists of a set of workshops and side-events, followed by a two-day Plenary meeting -- the formalities. The real work gets done during the workshops. Last year in Melbourne at APRSAF-17 we were fortunate enough to have two representatives, so jumped around the working groups -- but this year we focussed on the Space Education and Awareness workshop. And fortunately, these guys are very down to earth and equally as passionate as we are about making things happen in the region.
Country Reports
Most countries present a report on their activities, and it's amazing to see the size of some of them -- a space education workshop in Bangladesh for example was attended by 3,000 people! I originally wasn't going to present, but after some encouragement, hobbled together a quick New Zealand Country Report. Other country reports should be uploaded to the ?APRSAF

website and ?SEA WG Wiki

soon.
Water Rocket Competition
The results from the successful Water Rocket Competition were presented. Discussion was also had about the possibility of creating an Advanced category -- with parachute deployment, payloads, multi-stage, etc. A task-force was formed, and will explore this for next year.

SpeedB

who organised the water rocket event this year, also debuted a novel brainwave-powered water rocket launcher. The path of progress, eh!
Try Zero G
The outcomes of the "Try Zero G" activity were presented. 10 proposals were received from 3 countries and 3 experiments were conducted, one each from Australia, Malaysia and Bangladesh. Japanese Satoshi Furukawa conducted the experiments on the 22nd September, 2011. For Australia's experiment he investigated if a compass would point to the north in space. He compared the compass position with the alignment of the ISS and found that the compass did align itself with the Earth's magnetic field and point to the north.
Try Zero-G will be offered again in 2012 – so get your thinking caps on for experiment ideas. Applications are due at the end of February 2012, and I'll post more info as soon as I have it.
Wind Tunnels
JAXA presented a simple design for a wind-tunnel, which can easily be made in the classroom - and can be used for fun 'theory of flight' education. As you can see from the video below, the educators sure had fun - so kids sure will too. Email me if you want more info on how make one.
Komurindo (Rocket Payload Competition)
The Indonesian Space Agency (LAPAN) presented their rocketry payload competition, and delighted everyone when they announced this would be open to international entrants in 2012. Again, I'll post more info when we have it – but check out this video from the 2011 competition:
Poster Competition
The SEA working group has also held a poster competition for the past few years – the 2011 theme being 'The next 50 years in Space'. This was a great opportunity for students to demonstrate their vision for what the future holds.
The theme for next year's competition was decided - Friends in Space - to mirror the United Nations "International year of Cooperatives" theme.
Joint Workshop
And finally, in conjuction with the Space Environment Utilisation (SEU) and Earth Observation (EO) working groups, a combined session was held where JAXA Astronaut Soichi Noguchu

discussed the importance of Astronaut Photography of the Earth

.
–
To close, I would like to say a big thanks to Naomi Mathers from VSSEC - who helped me get the most from the conference.