I had the extreme fortune to view the last liftoff of Space Shuttle Endeavour from the Press site at NASA's Kennedy Space Center in Florida. It was an amazing experience to watch and feel the launch. The space shuttle is a spacecraft that has always fascinated me since it first was conceived, but I had never seen a launch in person. I attended as media, but for those keen, NASA is giving 150 people a chance to get this same prime viewing spot, and much more: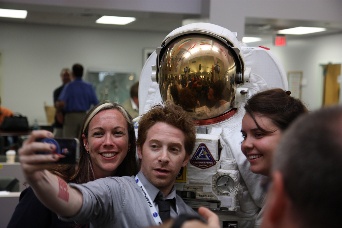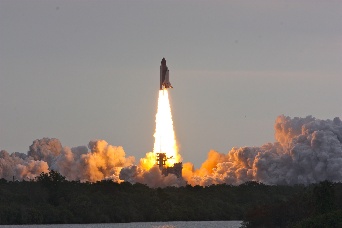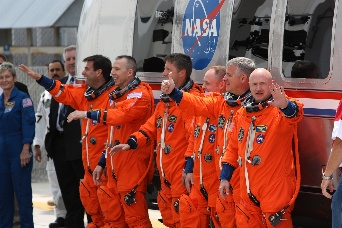 Some of my pictures taken at KSC for the Endeavour/STS-134 launch a few weeks ago. Seth Green (centre photo) was one of the attendees at the Tweetup.


NASA is hosting a two-day Tweetup for 150 of its Twitter followers on 7-8 July, at Kennedy Space Center in Florida. Space Shuttle Atlantis is scheduled to make its final flight at 11:40am on July 8 – the very last space shuttle launch, ever.
What's a Tweetup?
It's basically a gathering of people who use the social networking site, Twitter. But for lucky folk who attend NASA's Tweetup, it's an opportunity to meet and mingle with Astronauts, NASA personnel and experience one of the greatest spectacles from the closest viewing spot to the launch pad.
NASA held a Tweetup for the STS-134 launch, and while I didn't get to check it out first-hand, I managed to talk to a few of the Tweeps attending, and they had an absolute blast. They had a pre-planned schedule of talks from NASA employees and astronauts, were given tours of the various facilities, etc. And of course the got to tweet their experiences for the rest of the world to share.
Registration for the NASA Tweetup –
June 2nd
See the following page NASA to Host Tweetup at Final Space Shuttle Launch in Florida for full details, but there is only a 24-hour window to register, from Noon on June 1 to noon June 2 (I am presuming EDT).
In New Zealand timezone, this would be: Thursday 2 June, 4am .... Friday 3 June, 4am.
You need to fly there, etc, but this is front-row viewing. Not to be missed!
All New Zealander Tweeps should apply!
Given my own experiences, I cannot impress enough that any New Zealand user of twitter, with even an passing interest in space should apply. You need to pay for flights and accommodation, but this is the last ever shuttle launch, and so you don't want to miss out. And you get so much more than just a launch - backstage viewing of NASA's Kennedy Space Center, etc.
I've just spent 3.5 weeks at KSC for STS-134, and am seriously considering going back to see the final launch!