Crew123Day07CommanderCheck-In Report
Date and time: 01 February 2013
Written by: David Willson, Crew 123, Commander
Crew Physical Status:
good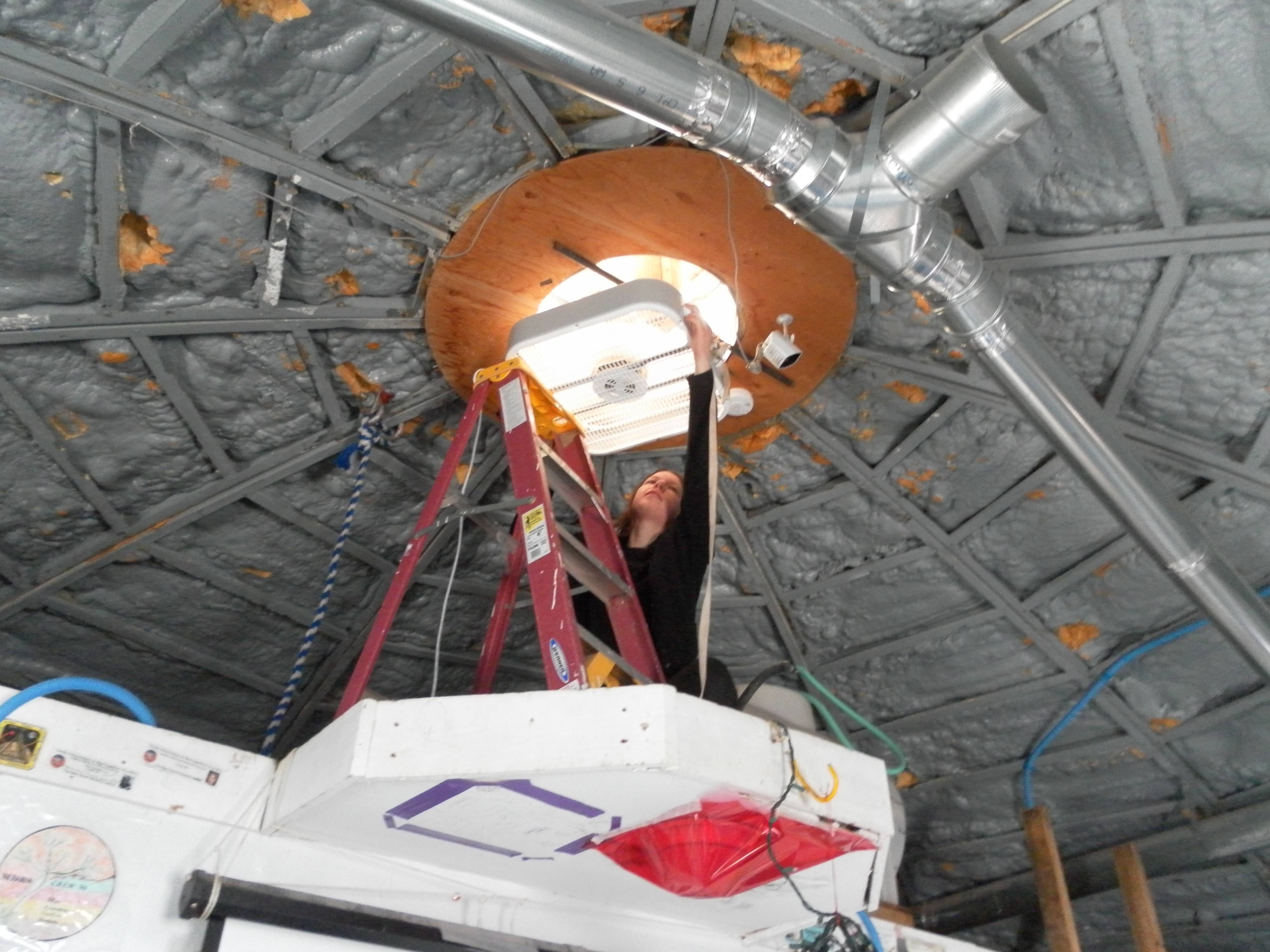 Emma installing a fan in the HAB's ceiling
Report Transmission Schedule

(you can access below all the reports of the day)

Mission Support

Media

Pictures for day 07

TasMars Gallery
Time Departed/Returned from EVA:
Brief Narrative of Field Mission Results:
EVA Data/Interpretations:
none
Engineering/Hab Maintenance:
Plans for Tomorrow:
Requesting EVA tomorrow again to USNG 
15SUD0370514711 (Kissing Camel location).
Support Requested:
none
Weather Forecast
 7-DAY FORECAST

    Tonight Clear, with a low around 19. Calm wind becoming west southwest around 6 mph in the evening.

    Saturday Sunny, with a high near 44. West wind around 5 mph becoming calm in the morning.

    Saturday Night Mostly cloudy, with a low around 19. Calm wind.

    Sunday Partly sunny, with a high near 43. Light and variable wind.

    Sunday Night Mostly clear, with a low around 19. Calm wind becoming west around 6 mph after midnight.

    Monday Sunny, with a high near 42.

    Monday Night Mostly clear, with a low around 19.

    Tuesday Sunny, with a high near 44.

    Tuesday Night Mostly clear, with a low around 21.

    Wednesday Mostly sunny, with a high near 47.

    Wednesday Night Partly cloudy, with a low around 21.

    Thursday Mostly sunny, with a high near 46.

    Thursday Night Mostly cloudy, with a low around 26.

    Friday A chance of rain and snow. Cloudy, with a high near 39.
 NEWS
 

PASADENA, Calif. -- NASA has joined the European Space Agency's 

(ESA's) Euclid mission, a space telescope designed to investigate the 

cosmological mysteries of dark matter and dark energy.
Euclid will launch in 2020 and spend six years mapping the locations and measuring the shapes of as many as 2 billion galaxies spread over more than one-third of the sky. It will study the evolution of our universe, and the dark matter and dark energy that influence its evolution in ways that still are poorly understood.
The telescope will launch to an orbit around the sun-Earth Lagrange point L2. The Lagrange point is a location where the gravitational pull of two large masses, the sun and Earth in this case, precisely equals the force required for a small object, such as the Euclid spacecraft, to maintain a relatively stationary position behind Earth as seen from the sun.
"NASA is very proud to contribute to ESA's mission to understand one of the greatest science mysteries of our time," said John Grunsfeld, associate administrator for NASA's Science Mission Directorate at the agency's Headquarters in Washington.
NASA and ESA recently signed an agreement outlining NASA's role in the project. NASA will contribute 16 state-of-the-art infrared detectors and four spare detectors for one of two science instruments planned for Euclid.
"ESA's Euclid mission is designed to probe one of the most fundamental questions in modern cosmology, and we welcome NASA's contribution to this important endeavor, the most recent in a long history of cooperation in space science between our two agencies," said Alvaro Giménez, ESA's Director of Science and Robotic Exploration.
In addition, NASA has nominated three U.S. science teams totaling 40 new members for the Euclid Consortium. This is in addition to 14 U.S. scientists already supporting the mission. The Euclid Consortium is an international body of 1,000 members who will oversee development of the instruments, manage science operations and analyze data.
Euclid will map the dark matter in the universe. Matter as we know it - -- the atoms that make up the human body, for example -- is a fraction of the total matter in the universe. The rest, about 85 percent, is dark matter consisting of particles of an unknown type. Dark matter first was postulated in 1932, but still has not been detected directly. It is called dark matter because it does not interact with light. Dark matter interacts with ordinary matter through gravity and binds galaxies together like an invisible glue.
While dark matter pulls matter together, dark energy pushes the universe apart at ever-increasing speeds. In terms of the total mass-energy content of the universe, dark energy dominates. Even less is known about dark energy than dark matter. 
Euclid will use two techniques to study the dark universe, both involving precise measurements of galaxies billions of light-years away. The observations will yield the best measurements yet of how the acceleration of the universe has changed over time, providing new clues about the evolution and fate of the cosmos.
Euclid is an ESA mission with science instruments provided by a consortia of European institutes and with important participation from NASA. NASA's Euclid Project Office is based at NASA's Jet Propulsion Laboratory in Pasadena, Calif. JPL will contribute the infrared flight detectors for the Euclid science instrument. NASA's Goddard Space Flight Center in Greenbelt, Md., will test the infrared flight detectors prior to delivery. Three U.S. science teams will contribute to science planning and data analysis. JPL is managed for NASA by the California Institute of Technology in Pasadena.


Lest we forget
Apollo 1,  April 24, 1967
Challenger, January 28, 1986
Columbia, February 1, 2003

Grissom




White




Chaffee

Scobee




Smith




Onizuka




Reznik




McNair




Jarvis




McAuliffe

Husband




McCool




Brown




Chawla




Anderson




Clark




Ramon
Mars News - from Google Alerts
Mars

 Curiosity Wins The 2012 Crunchie For "Best Technology Achievement"
TechCrunch
The Curiosity rover landed on 
Mars
 on August 6th, 2012, and in true robotic diva fashion, immediately started tweeting and sharing photos. It later even checked into
Mars
 on Foursquare. Faced with massive budget cuts, NASA wisely turned to social media 
...
See all stories on this topic »
Fossilized Conduits Suggest Water Flowed Beneath 

Mars

 Surface
Astrobiology Magazine (press release)
Networks of narrow ridges found in impact craters on 
Mars
 appear to be the fossilized remnants of underground cracks through which water once flowed, according to a new analysis by researchers from Brown University. The study, in press in the journal 
...
See all stories on this topic »
Mercury Meets 

Mars
Sky & Telescope
Mars
 is about ¾° upper left of Mercury on the 7th and less than ½° lower left of Mercury on the 8th. That means that they should fit in a single telescopic field of view at 80× on the 7th and more than 100× on the 8th. That's enough magnification to 
...
See all stories on this topic »
Forest City Gear workers welcome top 

Mars

 Curiosity mission scientist
WREX-TV
The 

Mars

 Rover "Curiosity" launched from Florida, the top scientist behind the mission lives in Los Angeles and part of what's roving around 

Mars

 is from Roscoe. Thursday, the mission connected with our area again. Dr. John Grotzinger flew from L.A. to ...
See all stories on this topic »
Edinburgh science fest to recruit 

Mars

 explorers
Scotsman
Bas Lansdorp, entrepreneur and co-founder of Dutch charitable organisation 
Mars
 One, will outline the 2023 mission, which is seeking anyone aged 18 or over who is "intelligent, in good mental and physical health, and willing to dedicate eight years to 
...
See all stories on this topic »
Mars

 Curiosity Facts
By Nicole Nguyen
If the Curiosity Rover and the iPhone 5 went head to head, who would win? Today at the MacWorld/iWorld Expo, Ben Cichy, James Kurlen, and David Oh of the NASA Jet Propulsion Laboratory got under the hood of both robot and device, and ...
GeekSugar
Mars

 Rover Scientist Visits Forest City Gear
One of the scientists responsible for landing a rover on the surface of 

mars

 makes a trip to the Stateline this afternoon. He spent some time checking out a Roscoe company that supplied parts for the mission to the red planet.
WIFR - HomePage - Headlines
ENDS.