Date Time: 19:00 01/28/2013
Written By: David Willson, Crew Commander of MDRS123
Chanel Seven Australia film crew arrived at 9:30 am at junction of HW24 and Hab Road.
Arrived to MDRS at 9:40.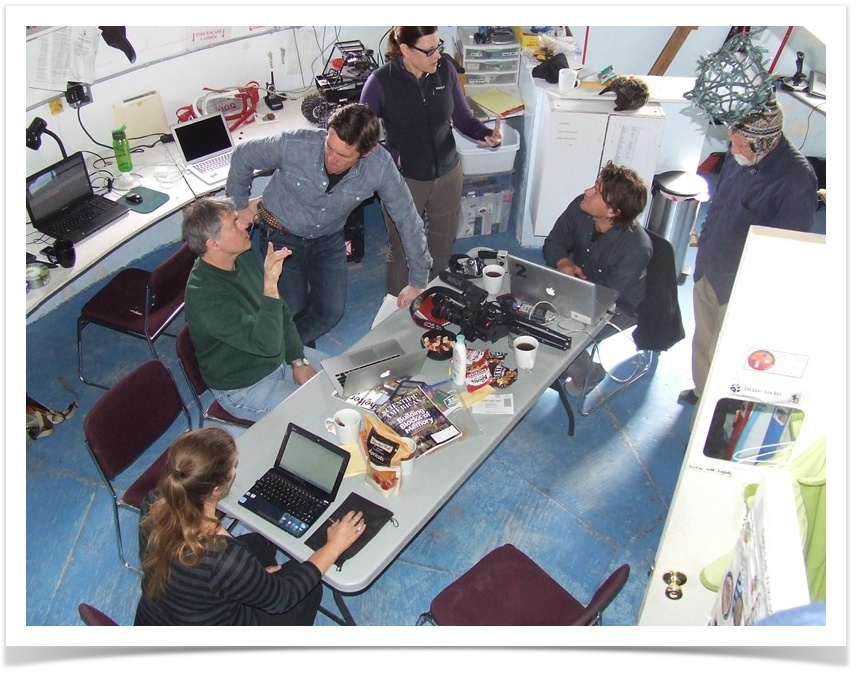 We undertook a 2 hour EVA long walking and exploring an in sim-Mars sequence 500 metes South of the Hab. (This is actually the area in the direction of the North Pinto Hills)
Ground was drier than has been prior 2 days; only top cm or so of the red mud moved as we walked.  We examined swelling hematite mud mounds and retrieved samples of mudstone and gypsum – similar to the rocks that Curiosity is investigating currently.
During the latter part of the EVA, Willson and Braegen drove one of the ATVs.
Melanie made bread and soup and served the crew and visitors lunch.
After lunch, we continued to work with the film crew that included: operating the rover, interviews with crew outside, in the Hab and in the GreenHab. Readying the rover uncovered multiple issues with batteries and control. Assistance by cell by Scott Davis from NorCal Mars Society helped resolve some issues for the filming.
Jen Blank drove John Stone (who was part of the maintenance crew) to Hanksville so he could depart home.
Express mail package from JPL/MSL-outreach coordinator Sarah Marcotte did not arrive today as expected. 
DG visited the Hab to inspect the toilet plumbing situation and pronounced it dire.  He said it will require an excavator to address the drainage/piping line to the septic tank.  No schedule for repair.
Film crew continued interviews with Willson and Braegen inside the hab – tour, discussion of a hab in Australia, etc. 
All crew members participated and performed well.