Skip to end of metadata
Go to start of metadata
It's a touchdown on an inter-planetary scale – sending a spacecraft 352 million kilometres through space to hit (safely) a tiny ellipse 20km wide and 25km long. But now Curiosity is now on Mars! After years of hard work, months of flight-time, and a nail-biting "7 minutes of terror", we now have a tremendously capable robotic science laboratory sitting on the surface of Mars.
And watching along for this exciting finale, was an excited crowd at Carter Observatory in Wellington, where KiwiSpace co-hosted a special landing event.
Around 120 people crowded into the OMV room at Carter, which overflowed into the nearby gallery - proving that there's plenty of interest in spaceflight in New Zealand. (We unfortunately ended up having to turn people away). We started with a short presentation by myself, introducing KiwiSpace and what we're about, and I highlighted some of the cool Xbox and IOS apps people can use to learn about Curiosity and have a lot of fun after tonight's event.
Next we had a brief presentation about the KiwiMars mission, by Haritina and Bruce. While the crew has done a few presentations at Carter in recent weeks, it was great to see it was predominantly new faces there, who hadn't heard about our expedition before. It showed how engaging space science can be, and that it wasn't just the 'diehard' space fans there to watch the landing. Finally, we switched back to the live NASA video feed.
There were some tense moments in the lead-up to the landing, due to some 'local communication issues' (flaky internet) – but we got most of the feed for the final landing approach. Claire Bretherton from Carter provided some great running commentary, translating the technical announcements and explaining what was happening as it went along. 
And of course, there was the "Touchdown Confirmed" moment. It's drowned out in the video a bit (by me), but everyone in the room was elated. I know I was – having seen a similar landings of both Spirit and Opportunity, I know I was so looking forward to this moment – and was over the moon!  
NASA had been very conservative in their pre-landing briefings, but I was very hopeful that we'd get the first image back before the Odyssey orbiter went out of range - so the crowd here could see the first image from Mars. And they didn't disappoint – giving us not just the thumbnail, but full-resolution versions! There's something amazing about getting those first pictures back – to know you've made it there, you've touched down safely and not about to fall off a cliff... 
One of the best parts of the event, was the questions we got afterwards. You could sense the buzz in the room as the NASA transmission ended and people started to make their way out. They had so many questions, wanted to know more, to understand parts of what they'd seen. Both the Carter and KiwiSpace crews were kept busy for 20 minutes or so answering questions and explaining more about the mission and what they'd just seen.
And I have to say that Carter observatory did an outstanding job at publicity for this event. We had TV1 and TV3 news there, as well as all the major newspapers. And our KiwiMars Mission Commander was kept busy doing interviews for several of them, including a live-cross on the TV3 news!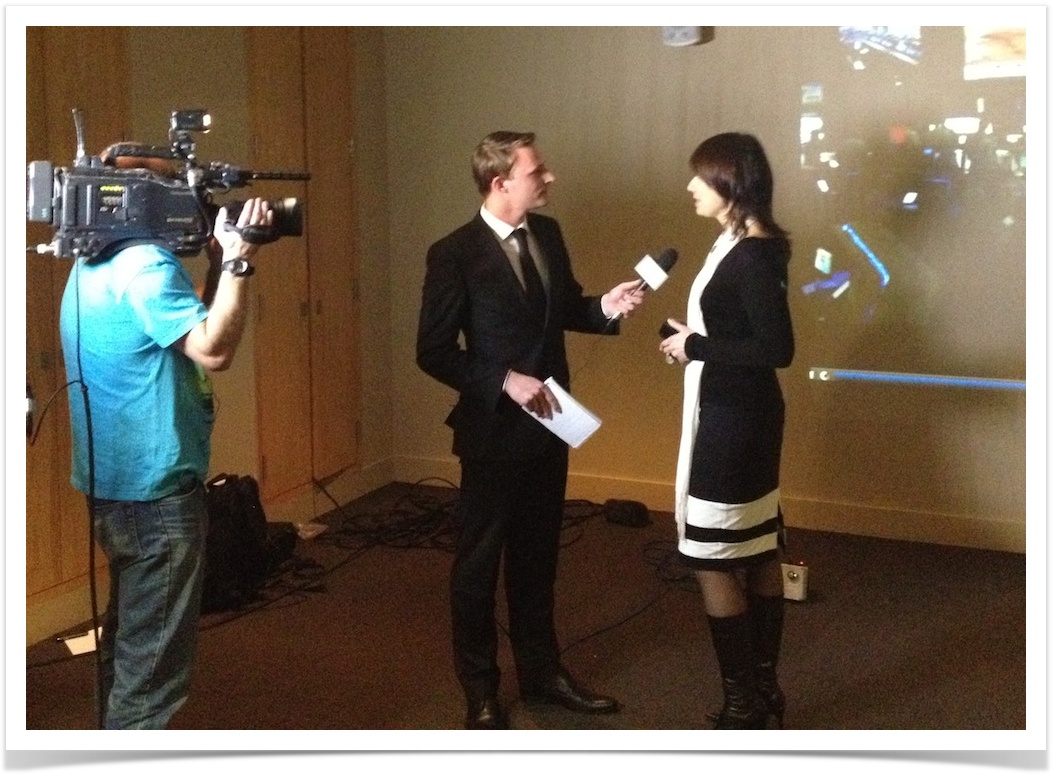 Following the landing event, we also had a short pre-arranged soiree with the members of the KiwiMars project team. It was fantastic to put faces to some of the people I'd only spoken to online or by email, and they are all a great bunch of people. We'd bought plenty of bubbly for that party, and of course it was a double celebration given Curiosity's landing. 
But of course the real celebration starts now – as Curiosity starts to rove Mars. I'll finish with a lovely quote I heard on the night: "It's time to see where Curiosity will take us..."