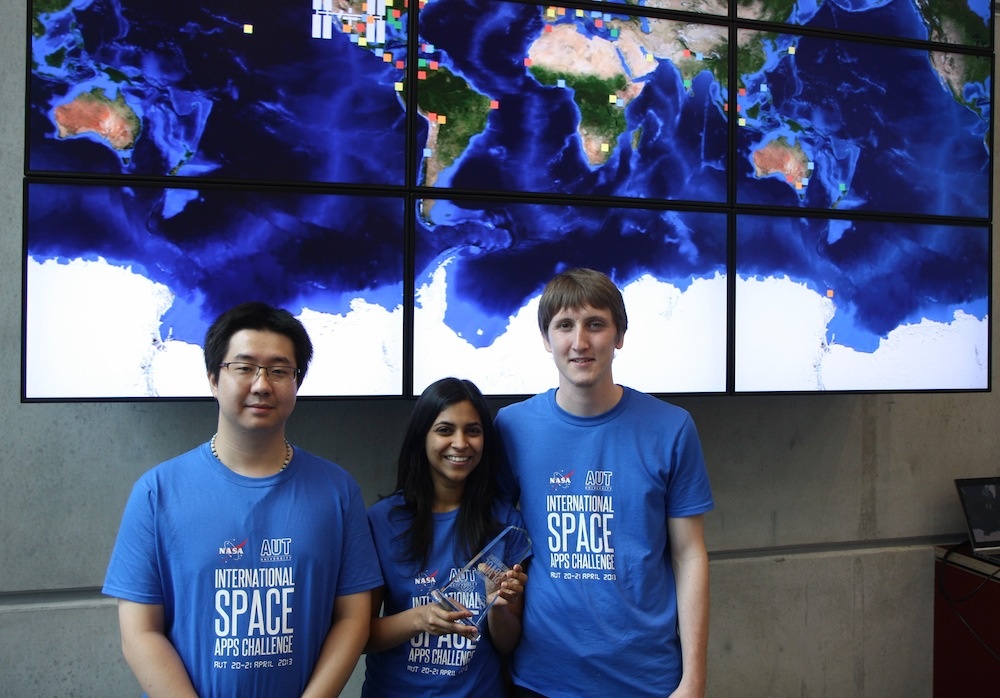 Placing first in the Auckland judging for the International Space Apps Challenge, was team "Spot the Station AUT" - consisting of:
Wayne Cen (left)
Eleanor Da Fonseca (centre)

Boris Feron (right)

Harrison Black (not pictured)
Their winning project consisted of an android application that included:
Real-time tracking on a map of the ISS' current location
Alerting via push-notifications when the station is approaching your location
Sharing via social media that you've seen the ISS, and optionally a photograph of your sighting or some aspect of your experience
Indications of other sightings in your vicinity, to promote the social-nature of such an experience
Directional indications of where to find the ISS, overlaid on a real-time view from the camera
Project Presentation
Judges Comments
Commentary
The final presentation only shows part of the story, and missed the blood sweat and tears behind the scenes. I spent the weekend jumping around and talking to the teams, so here are some additional comments and thoughts which you may find useful:
The team benefited greatly from the fact that their challenge was a more defined brief – which allowed them to hit the ground running right away (other teams didn't really start until Sunday).
With all software projects though, it's sometimes the simplest things (like a typo, or misunderstanding on how to use a library or API) that can slow you down – and so they still had their fair share of problems to overcome.
Eleanor during Q&A said that they had various things going 'by Saturday'. But I'm pretty sure she meant by the end of Saturday – as opposed to them having done full preparatory work. From speaking to the team myself, I think the pre-weekend focus was on setting up the server and doing the necessary Google pre-registration work to get the push-notification framework functional. Nevertheless, they certainly had done more preparation and planning than the other three teams.
However I do wish they'd put a bit more thought early-on into how such an application would be used, and what the general public would be looking for in the application. As demonstrated, I feel the app was a bit too much like a 'collection of features' – It lacked instructions and other aspects to make it a 'usable' app. Time of course was their enemy here - so hopefully as they continue on with the project post-competition that they'll address these issues. This was after all a 'hackathon'
Given they'd never even tried to see the space station before, and I believe were playing with technologies and integrations that were new to them – I think they did very well.