Here's an article about a project a few friends of mine are involved with over in Australia. Because, everyone needs broadband...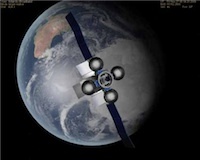 Antarctica to get satellite broadband, ABC Science (2011-05-12)
The project aims to serve the growing output of research communities working in the Australian Antarctic Territories, says Antarctic Broadband project manager Michael Brett.
...
Current communications in the Antarctic are patchy and insufficient for the needs of the research community, says Brett.
Check out the project website: www.antarcticbroadband.com.