Leading towards the Space Night event at Crofton Downs School in Wellington, on 20 June 2015 the children are very eager to find out what happened to the Impatiens seeds that have been to space. The seeds came all the way from JAXA courtesy of KiwiSpace and one of the batches has been to space on the International Space Station ISS.  
They are also looking forward to recreate the 2013 space seeds experiment with azuki beans and will share their results at the Space Night.
You can find out more about the experiment or space night here: http://spacenight.friendsofcdps.org/?p=278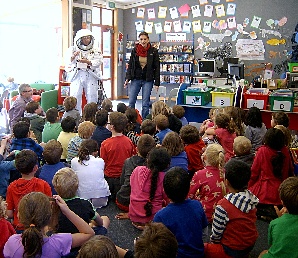 Haritina Mogosanu member of KiwiSpace Foundation on Thursday 30 April 2015 at Crofton Down School, explaining the Space Seeds project.