Skip to end of metadata
Go to start of metadata
  The previous crew left us waiving. We are home alone on Mars.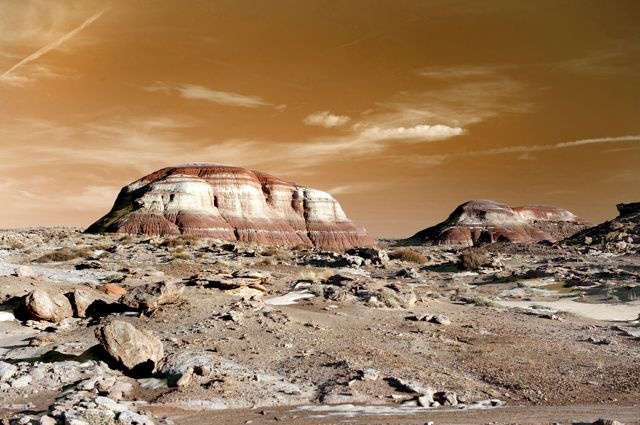 We started with a review of everything we had on the station, from paper and toner for the printer to the ridiculously good food (that we only rehydrate). You can find everything at MDRS, everything that makes life easy for the crew. Even movies. It is customary that everyone brings a movie or a book and leaves it here. I am the Executive Officer of the crew which means second in command, and I like it. The job comes with the room, myself and the commander have one wall to the exterior so we can vigil every movement of the crew (or of the wind). 
We decide to start the simulation on Tuesday, which will give us time to get acquainted with what we must do here and do it safely. Safety of the crew comes above everything at MDRS. 
Life in a Martian habitat is nothing like our daily 9-5. First thing after waking up, the crew's engineer makes the morning round, checks the engines, the power generator, heat and water, pumps and the greenhouse where the gray water is being recycled. We are only using Oasis soap which is a bio - soap that breaks down into non-harmful compounds. Although at first we were skeptic about it, it's one of the best soaps I have ever used.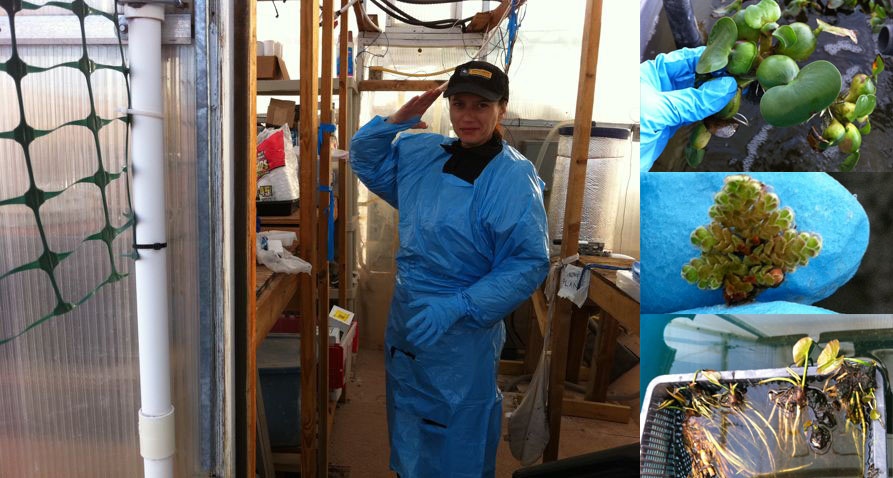 The gray water is recycled inside the glasshouse with the help of bacteria and plants such as water hyacinth and duckweed. This water then goes into the toilet and from there inside the septic tank. Water is very scarce and we have to use as little as we have to for flushing down. Some of us are OK with that, some are not. It's not easy to live here and we are starting to fully feel it. 
Engineering 
I love engineering, I would have loved to do it for real, in a space station. Since our real engineer could not make it, we assigned the difficult task to myself and Dragos Bratasanu, who also is the journalist of the mission. This way we can deal with this and also have time to fulfill our daily tasks. Having to perform another person's job had a great impact on all of us but we are adapting. At the end of the day, this is about adaptation and teamwork.
Today we started by preparing the ATVs for a ride and training on them. Nobody drove these things before and we have to master this art if we want to get anywhere in the dessert. Next time we will be driving them will be with our space suits on. Once we enter the sim we will only be allowed to wear the space suits or walk through the pressurized tunnels that go to the Observatory and the Greenhouse.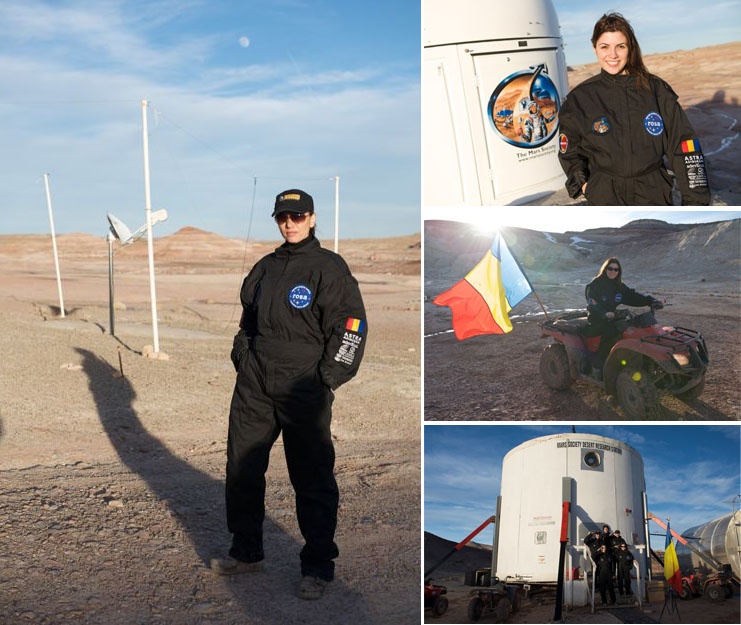 We also went to town to get the last shipment of scientific materials and found Judah Epstein, the commander of the previous crew. We invited him to lunch and we talked about our projects, both for this mission and in our life. Judah is a passionate of space, and his CV as everyone else's who was in here is impressive.
Being green on Mars
Our crew decided to follow a recycling programme. There are not too many recycling facilities here in Hanksville unfortunately all rubbish goes to the landfill. We will come up with ideas on how to best reuse everything as we would have done on Mars too. For this we setup a whiteboard where we all write our thoughts as to possible uses of the waste. We will be weighing and measuring all our waste at the end of our stay here.
Gardener by day and astronomer by night
And this has to be the best job ever! Who would have thought I would be able to combine my love for biology and astronomy on Mars? It works very well. The telescope is a C14 and I am going through all its documents and checklists.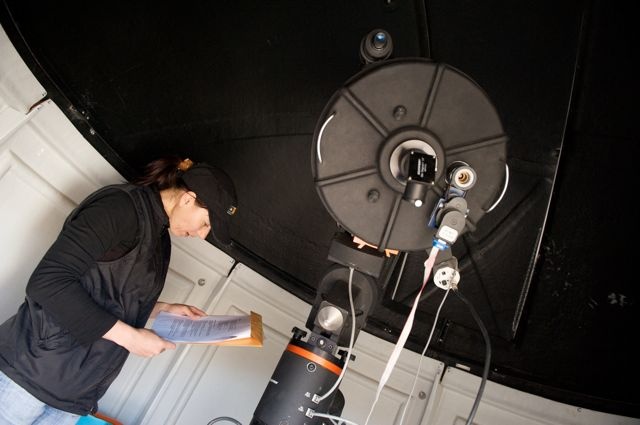 And at dawn and dusk I am neither gardener nor astronomer, I am an engineer. So the engineer in me is checking the water pump in the attic.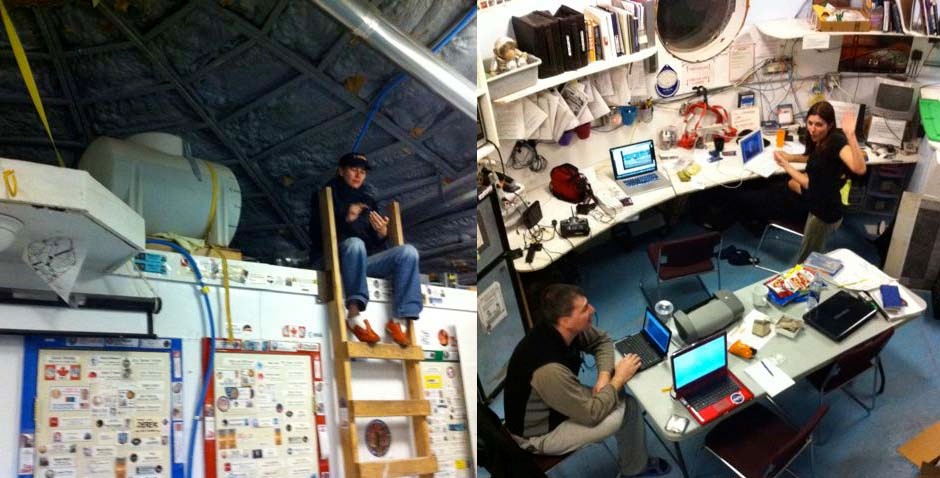 Below is Iulia (waving) and Commader Pop :) writing. Iulia is training to become Romania's first female astronaut. She will make an awesome astronaut, she is very knowledgeable, a great crew mate and very fun to be with. All these qualities are very important when you live in such confined environments.
Well it's time for me to go but not before sending you our crew's best regards. 
Will be back again with another transmission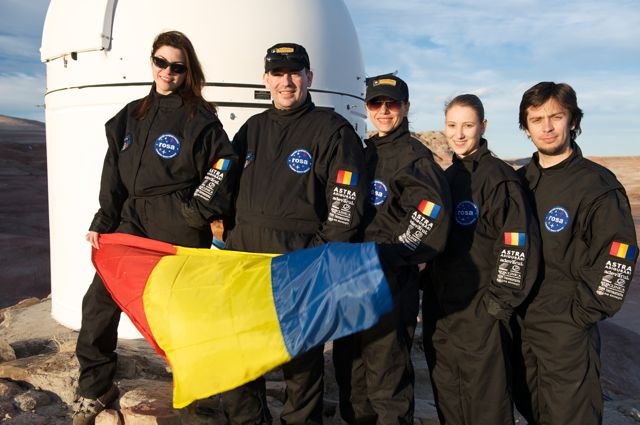 On to Mars!