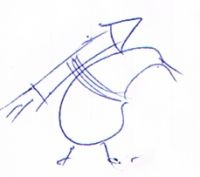 We recently changed our name to KiwiSpace Foundation, and are in need of a logo. The interim one you see at the top of the page was just a placeholder.
Excerpt
We know there are heaps of creative people out there, who are passionate about space – and would love to hear and see your ideas for what our logo can be.
It doesn't need to be perfect - a basic sketch is fine. The logo ideas will be reviewed by committee, and then sent to a graphic designer to craft the final design.
...