To help identify who's-who and to find out more about other members who share similar interests, we ask all KiwiSpace Members to configure their profile account with the following:
Profile Essentials
Profile Picture:  Should be a headshot that would allow others to identify you across meeting table, etc.
Location: Suburb, City (and country, if applicable)
About me: A blurb about yourself, and a summary of your interests:

Space Interests   (e.g. rocketry, space law, astronomy, etc)
Relevant organisations you're a member of (e.g. NZ Rocketry, Aeronautics Association, etc)
Employer or past employment (if relevant to space, or you want to share)
What brings you to KiwiSpace  (what you want to achieve, etc
The profile is public, but your email address is hidden (even from other members).
How to edit your profile or change your password
1. After you've initially logged in, if you click on your name at the top-right, you'll see a link 'Profile'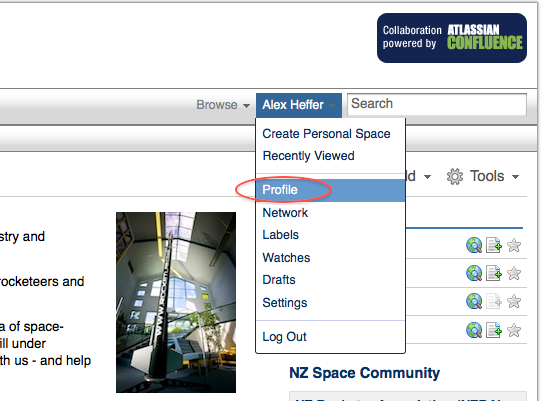 Clicking on the 'Edit' link on the right hand side of the Details page will allow you to modify your profile.
Choose Picture to go to the upload picture page.
Password will allow you to change your password at any time.